Naar blog
Giorgia about working at a Dutch football club: FC Groningen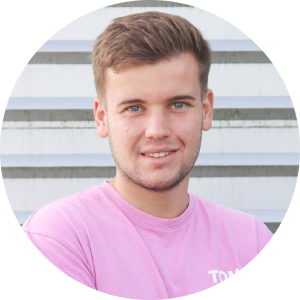 Jesse van Delden
A job for students is very important. It can help you develop certain skills and it teaches you how to deal with money. For international students, working for a Dutch company can sometimes be quite different in the beginning. For example, it can be thought that there is a language barrier and that the assignment is not understood. Read more about the story of Giorsia Beiso (20) and her story about how FC Groningen deals with this!
What kind of work do you do at FC Groningen?
At FC Groningen, I work in the pub, serving drinks and assisting the team with orders during home matches and other events. It's a great working environment for international students like myself. Although I understand Dutch, I don't speak it fluently yet, but the staff is patient and helpful. They take the time to make sure I understand how things work or what people are saying. This level of support is not always available in other work environments, so I appreciate it a lot.
How did you end up getting a job at FC Groningen through 365Werk?
A friend of mine who worked at 365Werk at FC Groningen told me that they were looking for more staff. She recommended me to apply for the job, and I decided to give it a try.
What do you enjoy most about working at FC Groningen?
As I mentioned earlier, I really appreciate the positive work environment and friendly staff. The tasks are also enjoyable to do, and I feel like I've built a good relationship with the people there by working hard and earning their trust. In my opinion, the communication at FC Groningen is very good. If I have a question or something is unclear about a task, I know who to turn to. The tasks are clearly divided, and there is always someone available to help. That's why I have also recommended the job to many of my friends who were looking for flexible working hours in this sector.
How do you balance this job with your studies and personal life?
As a board member of a study association, I have a lot of responsibilities outside of my job. However, the manager at FC Groningen is very supportive and understanding. Whenever I have questions or concerns, he helps me manage my time and balance my obligations effectively.
Why should other people consider working at FC Groningen?
Working at FC Groningen is always enjoyable and provides a pleasant working environment. It's an excellent opportunity to build relationships with the staff and gain valuable work experience. Although there may be some differences in the treatment of international employees at the beginning, once you start working and perform your tasks well, you feel welcomed and treated equally. FC Groningen offers a welcoming work environment with flexible working hours, allowing for a good work-life balance.
Are you also excited about working at FC Groningen after reading this blog? Then check out all the available job vacancies at FC Groningen!